Find out everything about the European Innovation Ecosystems (EIE) Work Programme which will constitute the vehicle to implement actions under the New European Innovation Agenda contributing to all flagships and most importantly to the dedicated flagships on "enabling deep tech innovation through experimentation spaces and public procurement" and "on accelerating and strengthening innovation in European Innovation Ecosystems across the EU and addressing the innovation divide".
 
innovation | research programme

Thursday 16 February 2023, 09:30 - 12:00 (CET)

Online only
Practical information
When

Thursday 16 February 2023, 09:30 - 12:00 (CET)

Where

Languages

English
Description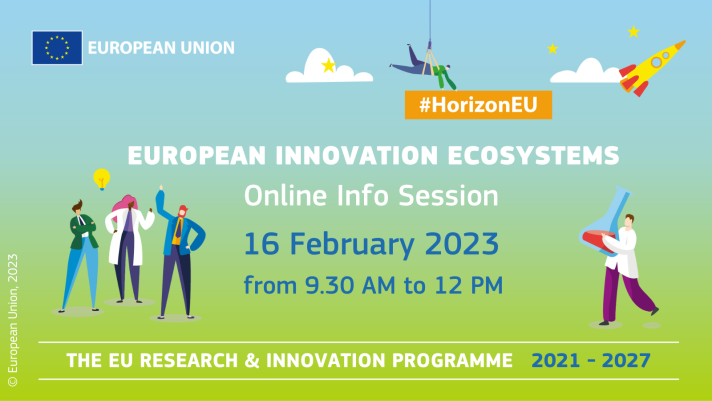 The EIE Work Programme, as part of the "Innovative Europe" aims to create more connected, inclusive and efficient innovation ecosystems that support the scaling of companies and spur innovation to address important challenges.

This particular informative session will focus on CONNECT destination of the Work Programme and specifically four of its topics, namely "Organisation of Women TechEU 2023-2024" and "Preparatory action for setting up joint programmes among innovation ecosystems actors" which are open calls with deadline on 23 March 2023 and the forthcoming calls in "Stimulating Experimentation Practices" and "Specialist Advisory Services to build capacities on innovation" which will open on 8 June 2023 and have a deadline for submission on 21 September 2023.